Press release: 28 Oct 2016

Unite Union's elected worker's executive recently passed a motion demanding that the NZ Super Fund withdraw all investments (divests) from the coal, oil and gas projects that are driving climate change. Unite joins climate action group 350 Aotearoa, several NGOs, faith groups and other unions in making this call. [1]
The NZ Super Fund has since responded, failing to commit to divesting from fossil fuels, instead announcing that [it] will simply talk to fossil fuel companies about the issue, as if that is going to make any difference.
Last year, over a hundred unite union delegates voted to adopt a climate justice policy that affirmed our union's support for calls to leave the world's remaining fossil fuel resources untouched. [2] That call has been soberly validated in a recent study by Oil Change International that recommended that no new infrastructure should be developed if we are to have any chance of avoiding catastrophic climate change.
"By signing on to this open letter Unite Union is recognising low paid workers in precarious work are the most vulnerable and least responsible for causing climate change. Low income earners and people who are economically vulnerable are the least resilient to economic, energy and weather-related shocks that are coming down the line.", said Gary Cranston, Unite Union's climate justice spokesperson.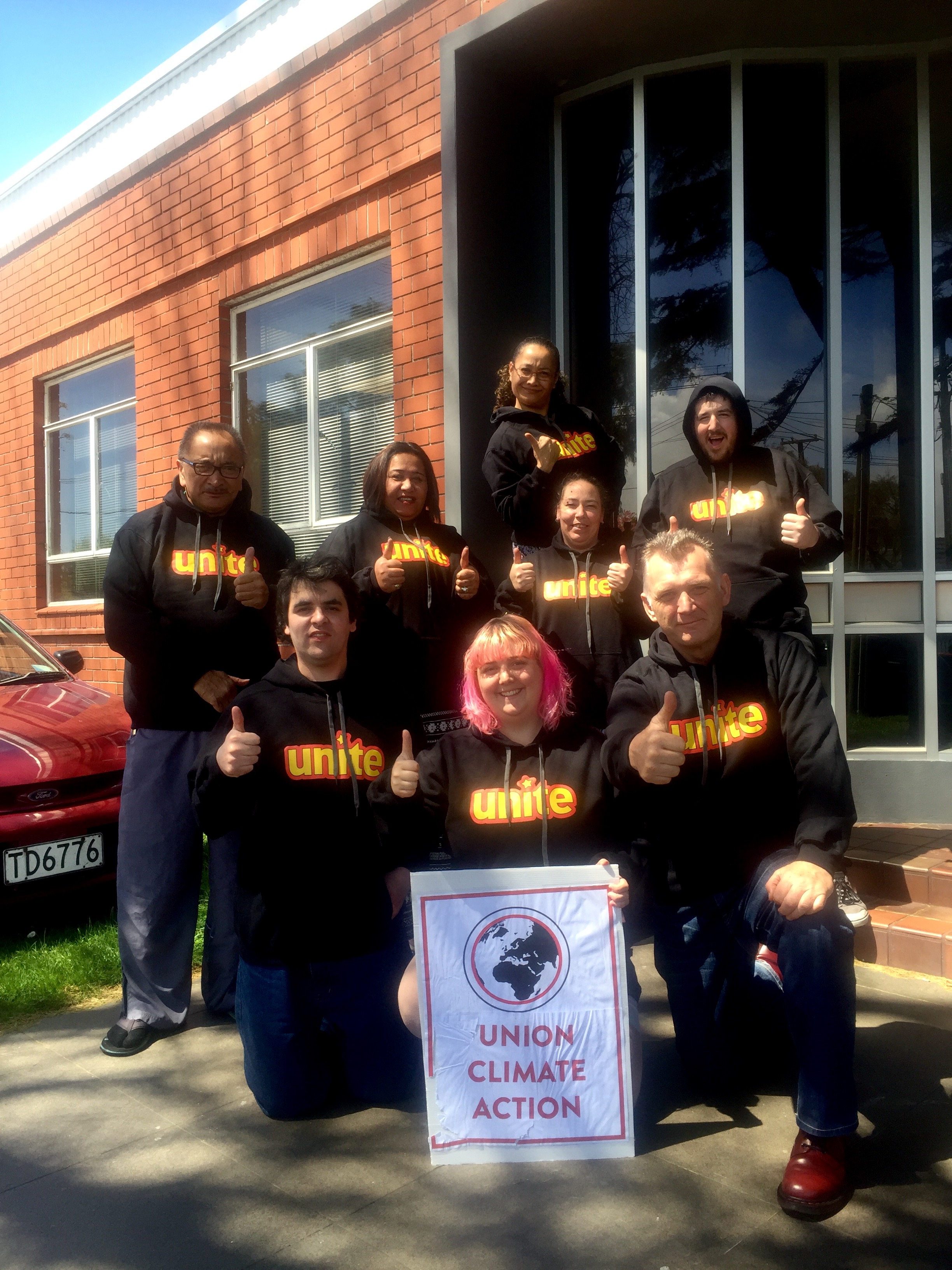 "We understand that this burden will fall first and foremost on vulnerable people and Unite Union members don't want their savings used to create an insecure future for them. That is the opposite of what our our Super Fund is meant for.", said Mr Cranston.
"Ninety per cent of staff at the New Zealand Super Fund are on six-figure pay-packets and while they may not be worried about the impacts of climate change as a consequence, we certainly are.", said Paseka Afaese, who works at a McDonald's restaurant in West Auckland [3]. Ms Afaese's family are familiar with environmental disaster after their home town of Lalomauga in Samoa was levelled by a tsunami in 2009. [4]
"While their wealth will insulate them from climate impacts, people on low wages who are reliant on future income security from their Super Fund won't have that protection.", said Mr Cranston.
"Donating our retirement savings to companies that are destroying our future has got to stop. In fact, if we are to secure a safe and healthy future for our communities and whanau we must reverse this trend.  That money could be invested in projects that support a Just (fair) Transition: A fair pathway to protect the climate, and our future's.", said Gary Cranston.
Unite union calls on the NZ Super Fund to genuinely divest from fossil fuels, by;
Making no new investments in coal, oil and gas projects
Committing to withdraw all current investments in fossil fuel extraction and production companies within the next three years
ENDS
References:
[1] Organisations Challenge NZ  – Open Letter : October 25, 2016
http://350.org.nz/organisations-challenge-nz-super-fund-open-letter/
[2] Unite union supports climate justice.
http://www.unite.org.nz/unite_supports_climate_justice
[3] Staff land six-figure salaries and big bonuses : NZ Herald Mar 17, 2013
http://www.nzherald.co.nz/nz/news/article.cfm?c_id=1&objectid=10871718
[4] 2009 tsunami, Samoa
https://en.wikipedia.org/wiki/2009_Samoa_earthquake_and_tsunami
Contact;
Gary Cranston
Climate Justice Spokesperson
Fast Food Organiser: West Auckland & Northland
029 4555 979
Unite union has made a public appeal for Ronald Mcdonald to make contact about dramatic cuts in his hours of work.
"There are many media reports that, due to the "creepy clown" phenomenon, McDonalds has dramatically cut back on Ronald's hours of work" said Unite National Secretary Gerard Hehir (see  Radio New Zealand: McDonalds not clowning around ).
McDonalds committed to Unite last year that all their workers being guaranteed at least 80% of their usual hours each week. We are asking McDonalds to confirm that they will honour this agreement with Ronald.  The creepy clown craze is not Ronald's fault and he should not have to go back to a zero hours contract and suffer because of it."
Read more
By Jenée Tibshraeny
A tax expert is calling for an overhaul of the way we treat white collar criminals compared to benefit fraudsters.
Victoria University of Wellington Associate Professor of Taxation, Lisa Marriott, wants to see an independent inquiry undertaken into our justice system, further to her research highlighting the extent to which tax evaders are largely let off the hook, while benefit fraudsters are chased down and forced to repay every cent they've swindled.
She says $1.24 billion of tax was evaded in 2014, while just $33.55 million of welfare payments were defrauded.
Read more
"Today New Zealand mourns the loss of union leader Helen Kelly. She was a fighter who died after a battle with cancer.
Helen died too young, and will always be remembered in our hearts, minds and on the frontlines of the fight for everyday working people.
Helen lived her commitment to fairness and justice every day. She was generous, creative, innovative, inspired and determined. She dreamed big and worked hard – and we're a better country for her achievements.
Read more
Workers at one of the country's biggest fast-food enterprises have reason to celebrate. Their employer, Restaurant Brands, struck a deal with the Unite Union in which workers' hours and shifts will be guaranteed on a permanent basis.
The new collective agreement moves from a formula in which hours were guaranteed at 80 per cent of those worked in the previous three months, to one in which all hours will be guaranteed and shifts fixed. The change affects hundreds of staff.
The listed franchise operator employs about 4000 people at 181 fast-food restaurants in New Zealand. Half the restaurants are KFC outlets and the rest are made up of Pizza Hut, Starbucks and Carl's Jr stores.
Over half the staff of Restaurant Brands are members of Unite
Read more
National Labour News
Airline unions expressed deep concern and shock over a series of recent laser strikes targeting flights near Auckland and Wellington airports. "We need to deal with the issue and we need to deal with it strongly" said the Airline Pilots' Association's, Tim Robinson. The flight attendants' union, E tū, condemned the act as "irresponsible and potentially lethal." According to news reports, the strikes affected several international flights into Auckland September 30, as well as an Air New Zealand plane heading into Wellington the previous night. Helicopter pilots also reported being struck by a laser from the area, other media reported. The pilots in the Wellington incident were temporarily blinded, and though they landed safely, "the outcome could have been catastrophic," said E tū's Director of Organising Aviation, Kelvin Ellis in a statement. "These strikes put everyone at risk, including the pilots, flight attendants and the general public", said Kelvin. All landings are the most stressful time for flight crews, Kelvin explained, and landing at Wellington is "stressful enough without the risk of a laser strike."
Read more
Restaurant Brands and Unite Union have amended their collective agreement to have workers' hours and shifts guaranteed permanently.
Unite National Secretary Gerard Hehir says that this is a massive win for workers.
For the first time in decades workers in the fast food industry in New Zealand will have their shifts fixed permanently. No longer will their pay vary from week to week. As shifts become available, which happens frequently with staff turnover, workers will be able to build up their hours to the maximum they want to work each week. 
The passage of the law to ban zero hours contracts in New Zealand set the stage for this change to the negotiated. 
Read more
Media release: Meat Workers Union
The Court of Appeal today dismissed an appeal by AFFCO New Zealand Ltd against an Employment Court decision that AFFCO had unlawfully locked out members of the Meat Workers Union.
"Both the Employment Court and now the Court of Appeal have held that our members we're unlawfully locked out by AFFCO. That judgment is a major step forward in advancing and protecting meat workers' collective bargaining rights," says Graham Cooke National Secretary of the Meat Workers' Union (MWU).
Workers involved in the Affco court hearings
Read more
Unite Dunedin organiser Olive Mcrae being dragged by hair during anti-TPP protest
By Chelsea Daniels
A Dunedin protester who was dragged by the hair by a police officer is calling for better investigations into police misconduct. 
Unite Union organiser Olive McRae was in Auckland taking part in a mass protest against the signing of the TPPA in February when the incident occurred.
Read more
By Joe Carolan, Unite Union Organiser
The decision to deploy Police armed with Tasers against vulnerable Migrant Workers and students last night, and to physically bar migrants from what was billed as a public meeting with National 's "Indian community" MP,  tells you everything you need to know about their true nature behind the liberal show.  The "go back home to where you came from" comments from the rich old white Nats might have been a dead giveaway, however. 
Read more