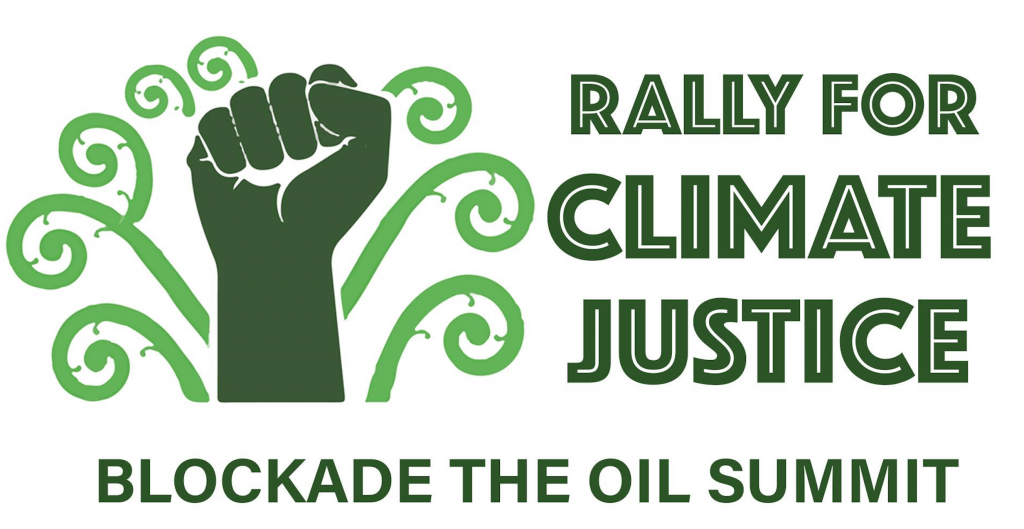 On 27 March 2018 the oil and gas industry is holding its annual business conference. Government ministers are lobbied, businesses network and oil and gas exploration permits are announced. Even though the global oil industry can't use the oil we already know about without pushing the planet's atmosphere into runaway climate chaos.
Read more
By Mike Treen, Unite Union National Director
(Reprinted from The Daily Blog)
The fact that half the prison population in New Zealand is Maori is simply a national scandal that must be ended.
Many Maori are in prison for being poor ie unable to pay fines the wealthy have no trouble paying or victims of laws that shouldn't be there in the first place like those criminalising cannabis possession.
It simply a fact that Maori are subject to racist discrimination at every stage of the so-called justice system. You are more likely to be stopped in the street if you are brown, more likely to be arrested once stopped, more likely to face more serious charges if prosecuted, more likely to have no legal representation if in court, more likely to be convicted, more likely to be imprisoned, more likely to receive a lengthy sentence.
Read more
Media Release - Migrant Workers Association
Justice for Chinese students- Migrant Lives Matter
Meeting at UNITE Union headquarters 7:00pm this Thursday and protest 2:00pm Friday at 280 Queen St called by the Migrant Workers Association.
A group of Chinese Students are demanding that the government help them after NZQA have closed their school and discovered that the owner has stolen most of their money. The students, who have been told by NZQA that despite paying $14,000 and spending a year studying in New Zealand that their qualifications will not be issued and that NZQA cannot transfer them to another school.

Chinese students are the latest victims of the profit-driven "export education" sector. Better protections are needed.
Read more
By Mike Treen, Unite Union National Director
(Reprinted from The Daily Blog)
I am pleased about the government's proposed changes to the Employment Relations Act.
These initial changes are mostly just reversing the reductions in rights for workers and unions made by the previous National government.
While these changes will make the unions job a little bit easier it will not significantly enhance workers power.
Changes that could potentially do that are planned for later this year and next year. The Labour Party has promised to reinstate the ability of unions to negotiate to end wage inequality for women and is looking at mechanisms to have minimum standards established for whole industries that have in the past ceased to be covered by union collective agreements. These are also potentially much more expensive and will threaten the "fiscal responsibility" rules the government has imposed on itself.

Unite launched the SupersizMyPay.Com campaign in 2003 for what was dubbed the "Unite Combo": Minimum wage increases, ending youth rates and secure hours. 
Read more
With more very hot weather on the way, here are some suggestions for things Unite members (whether staff or managers) can do if your workplace gets overheated.
If the air conditioning isn't working properly or the temperatures in your workplace are making you or the employees you supervise feel overheated, nauseous, dizzy, stressed, or so sweaty that you could drop something, then escalate it as a health and safety risk through your health and safe system and management/union. 
How hot is dangerous?
There is no specific temperature that is dangerous - as it can depend on how long you have to work at the temperature and different people have different tolerances to high heat. However, sustained temperatures above 30 degrees celsius will be a health risk to most people.
This is especially important if you or those you supervise are doing physical work or working with equipment that gives out heat, like cookers and gas stations; or if you have a condition that may make you more susceptible to heat. Fainting is common when people get overheated and is a severe risk for injury from resulting falls.
Prevention always best
The key is to deal with the problem before people start feeling unwell.
Read more
By Mike Treen, National Director, Unite Union
(Reprinted from The Daily Blog)
The government has opened or will be opening, some doors that will enable unions and other progressive movements to push for far more than is currently being offered.
The decision by the parties making up this government, Labour, NZ First and the Greens to adhere to a position of "fiscal responsibility" means that there will not be any new taxes imposed on the very wealthy for at least three years. The government is also committed to steadily paying off the existing government debt.
This means that the money available to the government to spend is not that much different to what would have been available to the previous National government. This means that very little can be done to fundamentally change the inequality and injustices that abound.
Actually, the government could simply seize the ACC investment fund which last time I looked was over $30 billion and it would have enough money to do almost whatever it wanted. This fund was built up by taxing working people through higher and higher ACC levies over the last few decades as a prelude to the eventual privatisation of the fund.
When ACC was established there was no fund needed to cover liabilities into the future. The system was deliberately established as a "pay as you go" system which meant this year's liabilities were paid out of this year's income. There was no need to change to the system we have unless you planned to sell ACC. That was the plan of the National party in the past. That plan no longer exists. The fund does not need to exist. The money should be returned to the people.
So when someone says "we can't afford it" – that is actually a lie.
Read more
A very Merry Christmas and Happy New Year from Unite Union. 
Help when you need it during the holidays

We are very aware that many members will be working through the holidays. We want to make sure both that you can get help from your union if you need it and that you get paid properly – especially for the four public holidays over the next two weeks.
Most Unite staff are on leave and our offices closed until Monday the 8th January. However, Unite has duty organisers on call every day until then.
If you need our help simply call 0800 2 UNITE (0800 286 483). If no-one answers immediately leave a message with your name, workplace and phone number - this is very important (and speak clearly and slowly when you do this). Someone will call you back within a few hours during the day, or the next morning if you call at night.
You can also email support@unite.org.nz. Again – include your name, workplace and a contact phone number, along with a brief description of your issue.

Getting paid properly for the public holidays
Read more
By Mike Treen, National Director, Unite Union
(Reprinted from The Daily Blog)
2018 will see Unite Union campaigning to rewrite all new collective agreements to ensure that all workers benefit from the planned increase in the minimum wage to $20 an hour by April 1, 2021.
This is an increase of 27% from the current level of $15.75. The first increase will be 75 cents on April 1, 2018, to reach $16.50 an hour to be followed by at least annual increases of over $1 an hour each year for the next three years. My guess is they will do $1 in 2019, then two increases of $1.25 over the following two years.
The increase in the minimum wage to $20 by 2021 will pose significant challenges to the union movement as a whole. It will take the minimum wage from 53% to 61.5% of the average wage. On current calculations, the "living wage" is $20.20 an hour or 66% of the average wage. By 2021 the living wage number should be about $21.50.
Read more
This is a Worksafe media release on 13 December 2017. In my view the fine was pathetic. Affco is a serial offender and one of their executive staff should be doing jail time!
Jason Matahiki suffered the horrific injury at New Zealand's Rangiuru Affco meat plant

Read more: http://www.dailymail.co.uk/news/article-3549034/New-Zealand-worker-Jason-Matahiki-recounts-horrific-injury-head-impaled-hook-Rangiuru-Affco-meat-factory.html#ixzz51exDXNAJ 


"Don't repeat your mistakes…"
Two similar accidents involving the same plant at AFFCO's Rangiuru meat processing plant two years apart are a prime example of a company not learning from its mistakes.
Today in the Tauranga District Court, AFFCO New Zealand Limited was sentenced over an incident in which a worker was caught by a spreader hook and dragged along the mutton chain in January 2016 – an incident that WorkSafe's Acting Deputy General Manager Investigations and Specialist Services Simon Humphries describes as "concerningly similar" to one two years earlier when a worker was impaled through the head by a spreader hook.
"After the first incident, the company failed to identify as a risk the particular piece of equipment that injured the worker in the second incident - a point particularly noted by Judge Mabey QC when he convicted the company earlier this year on the 2016 incident," Mr Humphries said.
"The Judge said for the company to rely on the fact that the equipment concerned had not caused previous incidents and it was not considered a hazard was to 'substitute their subjective views for the objective test which must be applied'," he said.
Read more
By Mike Treen, National Director, Unite Union
(Reprinted from The Daily Blog)
The exposure of the theft of alternative holidays – otherwise known as lieu days – by the Wendy's corporation has opened up a Pandora's box of holiday theft allegations across this and other industries.
As a result, Unite Union will be launching a public campaign to stop employers being a Grinch by stealing workers' holidays this Christmas and New Year!.
Read more