Unite Union is proud to have signed an important and powerful letter to our Prime Minister calling for an end to oil and gas exploration in New Zealand.
The signatories on the Greenpeace-led letter include the Public Service Association, the New Zealand Medical Association, Unite Union, the Public Health Association and Forest and Bird.
We hope that other Unions will join us in calling on the government to follow up on their pre-election comments that climate change is our "nuclear free moment." Unfortunately they have not confirmed an end to exploring for fossil fuels, which need to be left in the ground.
It is ridiculous that the new government plans to use our money to plant a billion (mostly) pine trees whilst continuing to financially support the digging up of fossil fuels. Our government should be supporting workers transitioning to decent, well paid, environmentally and socially positive livelihoods instead.
Here is the full letter
Gary Cranston
Fast Food Lead Organiser, Auckland and Northland
Climate justice spokesperson
---
Read more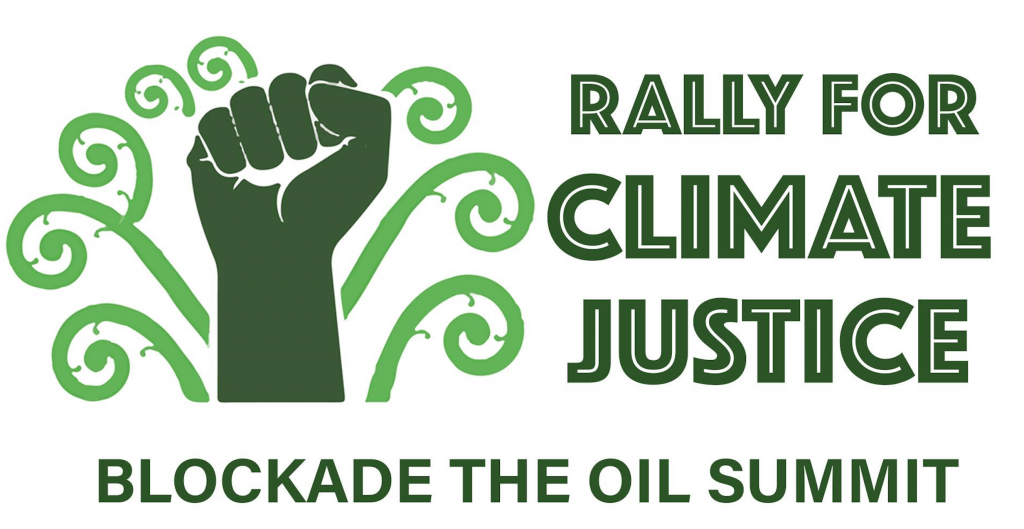 On 27 March 2018 the oil and gas industry is holding its annual business conference. Government ministers are lobbied, businesses network and oil and gas exploration permits are announced. Even though the global oil industry can't use the oil we already know about without pushing the planet's atmosphere into runaway climate chaos.
Read more
Last October, Unite Union's elected worker's executive passed a motion to join
350 Aotearoa
,
Coal Action Network Aotearoa
, several faith groups and others in demanding that the NZ Super Fund withdraw all investments from the coal, oil and gas projects that are driving climate change. The motion was passed unanimously.
Read more
Unite Union Executive Board Member Moniqua Reid reporting from the People's Climate March in Christchurch.
Christchurch Climate Parade Play "Earthy Earth & the Forces of Doom"
April the 29th brought together workers, students, various organizations and environmental groups around the world to make it clear that climate change needs action now and that the people want a sustainable future with sustainable energy. This day is known for the People's Climate Marches around the world, which have spread from the United States as people from all walks of life continue the fight for climate justice.
The first People's Climate March was created in 2014 as 400,000 strong marched through the streets of New York City demanding urgent action for our global climate crisis on the eve of the 21st annual UN Climate Summit in Paris. Unite union members also marched for climate justice on the People's Climate Marches in Auckland, Christchurch and Dunedin. This UN Climate Negotiations meeting in Paris was attended by Unite union official Gary Cranston who pushed for a "Just Transition" for workers and their communities, which was eventually included in the text of the agreement. Since then many commentators believe these global marches to be one of the key instigators that bought about the Paris Agreement. At this point in time the Paris Agreement is the most comprehensive global agreement to address climate change, although it is woefully inadequate when it comes to detailing fair and effective actions that will actually deal with the problem.
Christchurch and Taranaki had events planned for the worldwide march. Christchurch had a parade organised with key speakers in Cathedral Square and a play created by Simon Brown - "Earthy Earth and the Forces of Doom", the play followed Earthy Earth on a downward spiral after being convinced to try a 'hit' of CO2 and Methane from Dirty Fossil Man and his acquaintance, Stinky Cow. This was closely followed by a march led by Earthy Earth and her saviours, The Eco Kids, Eco Nurses and Eco Warrior. There was an estimated 600 people marching around the Christchurch CBD with amazing placards, my personal favourite being a polar bear flipping everyone off.
Nicole and I were out in force for the climate parade in Christchurch to take a stance against climate injustice and to demand actual concrete change towards a more sustainable future. Climate change is one of those issues that you can't immediately see the results from, it's slow moving but it is incredibly important for young individuals and the working class to create noise for the world in which we live fairly and sustainably in. If every person made a change in their own lives as small as recycling, car-sharing to work, reducing individual beef intake or buying more products packaged in cardboard or glass rather than plastic, then this would make a great start!

Links to further reading:
The 'People's Climate Rally' at the 2017 Petroleum Conference in Taranaki will include protest, workshops and entertainment. The rally is being organised by Taranaki locals and other groups working on climate change, fracking, oil and gas drilling, and social justice.
"Climate change is here. Unite union members were almost killed in West Auckland last week when floodwaters spilled onto electrical equipment in a fast food restaurant.

Climate change isn't something that low paid workers can buy their way out of. You won't find Unite union members buying $100,000 "green" electric cars, or jetting off to safety when the next climate disasters hit. For us, the fight for climate justice is literally a fight for survival.

Unite Union supports everyone taking direct action for climate justice by taking on the polluters face to face at the Petroleum Conference in Taranaki, just as we support workers who take on exploitative employers face to face at the negotiation table, in our workplaces, on our pickets, on our streets."

- Gary Cranston: Unite Union organiser, West Auckland, Northland and environmental justice spokesperson.
Unite union members from Sky City, KFC and McDonald's spent Saturday completing Unite Union's first ever climate change workshop.
Participants spent the morning exploring the basics of the climate problem itself, then went on to explore the interconnectedness of climate change's causes and effects.
Each participant then identified an aspect of climate change that was most relevant to their own lives and how they personally could connect with cooperative projects that are addressing this.
We will be running two more workshops between now and the end of the year.
Union members are encouraged to contact Gary Cranston if they would like to take part.
Gary Cranston
Fast Food Organiser
West Auckland - North Auckland - Northland
029 4555 979
gary@unite.org.nz

Environmental and union leaders will come together this Sunday the 14th of August at this year's ECO conference for a panel discussion on the subject of Just Transitions, and you're invited.
A just transition means moving to a low-carbon and climate-resilient economy that maximises the benefits of climate action while minimising hardships for workers and their communities. The panel will start at 12:45 on Sunday whilst everyone is invited to attend the full weekend long conference.
Read more
Join us at SkyCity this Monday the 21st of March for #RealClimateAction
Following on from the fantastic Union turnout at last year's People's Climate Marches, union members are invited to join in a day of "Peaceful civil disobedience" against the Oil Conference at the SkyCity Convention centre this Monday. The events will be co-ordinated by Greenpeace and inspired by Te Whiti and Tohu of Parihaka, by Gandhi, and Martin Luther King Jr.
Read more
Unite union condemns the exclusion of 'just transition' measures in the Draft Paris Outcome and stands with world's most vulnerable and against the corrupted COP process. 
Unite union climate justice spokesperson Gary Cranston joined a sit-in of disaffected civil society representatives at COP21 in Paris today following the release of the draft negotiation document. "In the last few days of the negotiations, unions and climate impacted allies have been working hard to ensure Governments agree to include wording in the climate agreement that will support a just transition away from fossil fuels that will protect those most vulnerable", said Unite Union's representative in Paris, Gary Cranston.
Read more
Unite Union adopted a position on climate justice at its annual conference last week in Auckland. Unite Organiser Gary Cranston will also be attending the climate change negotiations in Paris as part of an international union delegation.

Unite organiser Gary Cranston introduces resolution on climate justice to Unite annual conference November 27, 2015
Read more