UPDATE: Unite Union members to Rally for Climate Justice 🌪 Stop the Oil Summit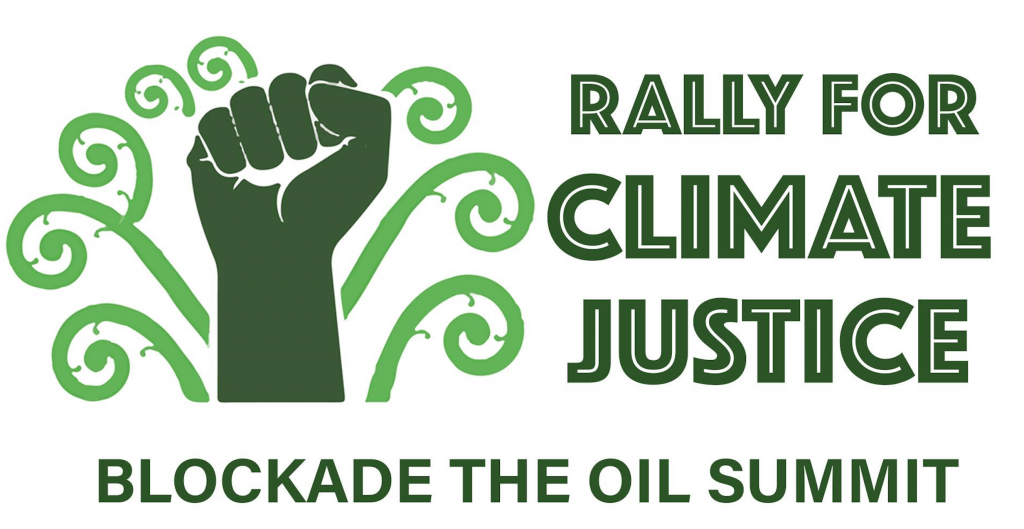 On 27 March 2018 the oil and gas industry is holding its annual business conference. Government ministers are lobbied, businesses network and oil and gas exploration permits are announced. Even though the global oil industry can't use the oil we already know about without pushing the planet's atmosphere into runaway climate chaos.
UPDATE
The Rally and Blockade for Climate Justice will now be held on Tuesday 27th March, venue TBC
The Oil Summit begins on Monday 26th March, however we believe targeting the second day will be much more effective in disrupting the Oil Summit's proceedings.

We know that some of you have already made plans to attend on Monday, booking travel and time off work. We really appreciate your dedication to standing up for climate justice, and would ask you to please re-arrange your plans if you can. It's vital that we get the maximum number of people to disrupt the conference on Tuesday the 27th.

We have recently uncovered information indicating that the "real business" of the Summit will begin on Tuesday 27 March. The Summit organisers have done their best to hide their schedule, but our team has worked hard to uncover their plans.

We are very sorry for the inconvenience. Blockading a conference on this scale requires flexibility, and we believe this is the best way to effectively disrupt their business.

There will still be some awesome events happening on Monday, and we will let you know more details ASAP!

Please share this email with people you know who are planning to come to the Rally.

Accommodation

We have arranged accommodation for our friends traveling from around Aotearoa for Sunday, Monday and Tuesday night. If you have already told us that you need accommodation, we have you covered. If you will need accommodation please let us know by registering.

The venue

PEPANZ haven't publicly released the venue, as they are scared of protestors like us standing up to them.

However, they haven't been able to keep it quite secret enough! We can tell you it's in Central Wellington, and stay tuned for the big reveal!

Registering

If you haven't registered securely, please do so now so we can plan to feed everyone! Register here.

Once again, we appreciate what the date change means for people making plans to commit to this event. We did not make this decision lightly. We hope you understand we are doing this because we want to send the strongest message possible to the oil and gas industry that we will not allow their business to carry on under our noses.

It's going to be an awesome, powerful day and we look forward to seeing you there!

Arohanui

Rally for Climate Justice crew

 
---
Unite Union supports everyone taking direct action for climate justice by taking on the polluters face to face at the Oil and Gas conference in Wellington, just as we support workers who take on exploitative employers face to face at the negotiation table, in our workplaces, on our pickets, on our streets.

Unite Union members are encouraged to join in blockading the oil summit and pushing for climate justice and a just transition for everyone, not just the rich who's wealth will insulate them from the effects of climate change.
Save the date – and help build the movement for climate justice and a fair and sustainable future. Help us stop the Oil Summit in Wellington, 26 March 2018. Now is the time for a community led just transition to a fair and sustainable society which addresses the wrongs of the past and plans for the future, rather than drilling more oil wells.
More information about the action will come soon, but in the mean time save the date, share with your friends, and register here.
Unite Union members are encouraged to contact their Union organiser and let them know that they are interested in attending.
For more information about Unite Union's work in this area please contact Gary Cranston, Lead Fast Food organiser for Auckland and Northland and climate justice spokesperson.
gary@unite.org.nz
0294555979
Do you like this post?